You are most welcome to TownMediaLabs Creative Content Writing Classes in Chandigarh.-The creative content writing course in Chandigarh is all about expressing yourself verbally. Every industry nowadays needs content writers. This carrier has a broad span.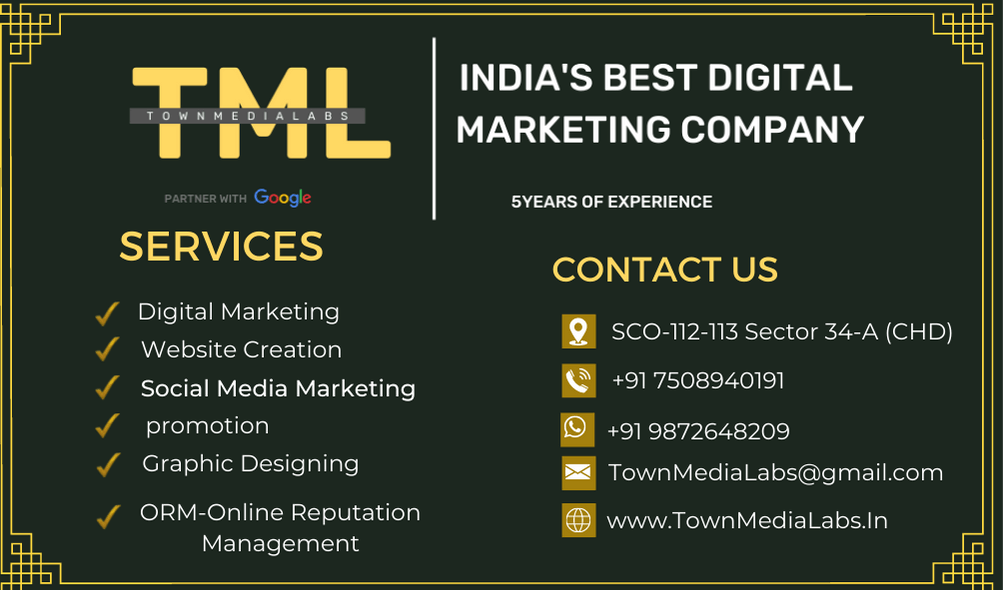 TownMediaLabs provides Content Writing courses in Chandigarh, Zirkpur, Punjab, And All Over India To Book Your Demo Call Us Now At 98726-48209.
Furthermore, this skill takes an increasing amount of practice. Numerous institutes provide content writing classes. TownMediaLabs technologies are among the best in the world. TownMediaLabs offers the most comprehensive content writing training in Chandigarh. In this sense, content writing is a profession in today's world. You will receive a lot of attention.
We are easily located in Sector 34, which is a hub of training institutes in Chandigarh. call Now at 9872648209 To book Your Demo.
Content writing for the web involves the content should be user-friendly and easy to read along with its optimization as per search engine direction. If you can do so then no one can stop you from getting a good package. If you are lacking somewhere then join Best Content Training Institute in Chandigarh with us.
FEE & COURSE DURATION:
The fee for the complete and advanced Content Writing Course in Chandigarh at Townmedialbs. is INR 25000. The Complete Duration of the Advanced Content Writing Course in Chandigarh is 3 months.
| | |
| --- | --- |
| Course Name: | Content Writing Course in Chandigarh |
| Duration: | 3 Months |
| Timings: | 9:00 am to 11:00 am, 11:30 am to 1:30 pm, 2:30 pm to 4:30 pm, 4:30 pm to 6:30 pm |
| Batch Days: | Monday – Saturday |
| Mobile No: | +91-98726-48209 |
| Course Fee: | INR 15,000/- |
Which Institute Provide the Best Content Writing Course In Chandigarh?
Townmedialabs provide the Best Content Writing Course in Chandigarh. Townmedialabs Is recommended as one of the best content writing training Institute In Chandigarh, Tml Has Train Over 500+ Students and Helps To get Their Dream Jobs Call Now To Book Your Stean Now At 9872648209.
Who is an Expert Content Writer in Chandigarh India?
Raman Makkar is the Best Content Writer in Chandigarh India he has over 6 years of experience and has trained over 600+ Students. Mr. Raman Is recommended By Google As the best Content writer in Chandigarh India. Call Now Take Advance Content writing Traning From Raman call At 9872648209.
why do we need To Learn Content Writing?
Nowadays, content is king, and we should all be aware of this. Are you a resident of Chandigarh looking for the best academy or institute for content creation training in the city? Are you interested in pursuing a career in content creation and looking for the best institute?
If you answered yes, we have the ideal solution for you. Townmedialabs Academy is the best place for you in Chandigarh, so you don't need to look any further. It is the best academy that will teach you everything you need to know about content creation.
Good content always attracts many visitors and persuades them to buy and order from any website. With good content, you can always communicate with your prospective client. As we all know, good or quality content can boost any brand's success and improve the site.
Scope of Content Writer
To begin, you must learn all aspects of the content writing course to become a content creator. You will also learn fundamental skills. Begin your content writing career, which requires a basic understanding of English. Simple English is always more persuasive than complicated English. As a result, you can have a successful career. Salary packages are among the best in the industry. As a content writing certification holder, you can also choose a profitable freelance profile. However, the possibilities for content writing are limitless.
Furthermore Content Writing Course in Chandigarh
The copywriting course is a value-added feature in content writing training. Copywriting skills are required for news portal services. We also know that content writers are in high demand. Similarly, the prospects for IT companies are quite profitable.
A constant demand for content writers is observed among both public sector organizations and companies that specialize in web design and digital marketing. This demand is caused by the requirement for collaboration with content writers for the posting of content on websites, social media, and other purposes by these organizations.
What you will learn with our Content Writing Training Course?
Our content writing course covers all possible topics that make you a good Content Writer. Below we have mentioned topics and essential points that we cover while teaching you content creation.
A content writing course in Chandigarh is being sought after. A form of online writing, content writing is closely associated with web marketing, social media marketing, and SEO. The creation of engaging, informative, and keyword-rich content capable of attracting the attention of online users is deemed necessary for a good content writer.
Aspects of online writing, including SEO writing, web copywriting, article writing, and blog writing, are often covered by content writing courses. The basics of online writing and the production of effective web content are aided to be understood by the students through these courses.
The course curriculum of a content writing course generally includes the following topics:
1. Introduction to content composition: This subject covers the fundamentals of content production and supports students in distinguishing between happy composition and other types of composition.
2. Website design enhancement writing: This course introduces students to the fundamentals of Web optimization writing and demonstrates how to write Web optimization pleasant content.
3. Web copywriting: This course introduces students to the fundamentals of web copywriting and demonstrates how to create attractive web copy.
4. Article writing: This meeting introduces students to the standards of article writing and demonstrates how to write excellent articles.
5. Blog writing: This course introduces students to the principles of blog writing and demonstrates how to write effective blog parts.
Content Writing Course in Chandigarh -Traning syllabus
Content Writing Course in Chandigarh

Introduction to Writing – Different types of information
Planning Your Writing
Guidelines to Write
What is a reader-centric document?
Reading for Writing
Referencing and Plagiarism
Reading for Writing
Writing Effective Paragraphs
Pre-writing
Effective writing
Communication with Subject Matter Expert
Grammar for Writers
Common Grammatical Errors
Proof Reading

Editing
Communication with Graphic Artist
Rewriting
Writing for Web
Publishing – Project Work
Professional Development Skills
Keyword Researches
Essentials of Web
Essentials of SEO
Blogging
Essentials UI&UX
Different Tools of content writing
Professional Email writing
Interview Preparations or Make money online
Types of Content Writing Traning in Chandigarh- Course Covers
By learning all of the above aspects of web content writing, you will be able to easily paint any web page with your words. We will provide you with professional certification in content writing and management once you have completed the course.
1. Journalism style and branding :
Writing abilities, in particular, are expressed in report writing. News reports can be found in newspapers, radio, blogs, TV, and other media. The majority of good writing has these components. Finding, editing, and producing issue news is the main objective of this style for various news outlets.
2. Copywriting Course for SEO
SEO copywriting is an important component of the content writing course in Chandigarh. Similarly, SEO copywriting assists in marketing the content at the top position. Using keywords and phrases related to the products, services, or websites in search engines. Content writing demonstrates the website's ranking at the top of the search engine. Using the specified targeted keywords.
3. UI/UX Content Writing in Chandigarh
In this context, user practice writing refers to the act of writing copy for user-facing touchpoints. This type of writing contributes to the company's profitability. This is extremely beneficial to those who read it. A good UX/UI writer does not judge an article based solely on its title. However, the details are stated in the content. UX writers are fully integrated members of the UX team.
4. Writing about lead generation or conversion rate optimization
Lead generation is undoubtedly important. Writing ability increases the number of leads on a specific website or page. As a result, Turn Rate Optimization is achieved. Writing is directly targeted to increase the number of leads converted into profit.
5. Subject matter
Furthermore, Subject matter expert writing has a deep understanding of a special area or topic. And exclusively can exhibit the highest level of expertise on that topic while writing about the topic.
6. Influencer
Impressive Writing content easily goes viral on the internet and is known to be influencer content. Also, It is always good to spend time writing content. That gets more interactive within you, As a result, viewers will give you more traffic.
7. Social media writing
Additionally, The content written for social media programs should be SEO-friendly. Especially using social media writing way, this method defines how to use hashtags, questions, polls, statement links mentioning someone's profile, external linking, etc. In this way, content is more winning and traffic located.
8. Advertisement copywriting
Most importantly, Broadcast writing is used in media where time and space are premia, Strong writing presents a message that has to be meaningful, impactful, and profit-oriented. The content has to connect with the reader. Way of content is used by print media, billboards, tv, radio, online advertisements, landing pages or home pages, etc where we have to give viewers a clear message.
9. Technical writing
In addition to writing skills, technical writing is an important aspect. In other words, Writing skills create the ability of highly Technical Content. All complex concepts should be easy to understand. Expressive content in a simplified manner is always appreciated. Products of manuals should be presentable.
10. Narrative Writing
Furthermore, producing narrative content shows the level of brands and the unique value of services they are offering. Write content that directly conveys to users and keeps them interested in reading the full message given on a particular page.
11. Creating visual content and Automation in content writing
At last, Today's cyber world has many forms of content. Most users on the internet are using mobile devices. For such users, visual contact is more attractive than the written form of content. Our content writing course in Chandigarh includes several automation tools that will help you to get things done quickly.
Why do You Need Content Writing Training In Chandigarh?
If you are the one who is thinking of or looking for his or her career in the content creation field then you need to enroll yourself with the best institute or Academy to get the course. In this content creation course, professional writers will teach or give you tips that will help in improving your writing. These are the following mentioned below which you will learn by connecting yourself with the Townmedialabs Best Content Writing Traning Academy in Chandigarh.
Content writer for Websites
Content for Mobile Applications
Content writer As a Career
Tips to improve the content and many more.
Why Should You Choose TownMediaLabs Academy For Content Writing Course in Chandigarh?
A content writing course that provides comprehensive training can be taken at TownMediaLabs Academy. You will be given a live project by the expert team to gain hands-on experience, and all aspects of content creation will be taught to you. The instructors, who have extensive experience in the field, will provide a demonstration of how content is utilized in real life. The knowledgeable staff will ensure that all necessary information is given to you so that you leave the course with a thorough understanding of the subject.
So, if you are looking for the best content writing institute in Chandigarh city, we have the perfect solution for you. As we all know, there is a high demand for content creators nowadays, thus picking this field may be a good choice for you.
We hope, we provided you with the best information regarding the Content writer courses. For more feel free to contact us anytime. You can also visit our official website. Townmedialbs. in or call us at 9872648209
How Townmedialabs Can Help You Become a Better Content Writer
Are you looking for a content writing course in Chandigarh? If yes, then you have come to the right place. Townmedialabs is one of the leading content writing training institutes in Chandigarh that offers a wide range of courses to its students.
The content writing course at Townmedialabs is designed to help students become better content writers. The course covers all the essential aspects of content writing, such as SEO, keyword research, copywriting, and more.
Upon completing the course, students will be able to write compelling and engaging content that will help them stand out from the crowd. They will also be able to optimize their content for the search engines, which will help them get more traffic and exposure for their businesses.
If you are looking to take your content writing skills to the next level, then Townmedialabs is the perfect place for you.
Benefits of content writing course
One of the most crucial abilities a writer can have is content writing knowledge. The training can assist a writer in creating excellent, thorough, and interesting content for their readers. A writer can learn how to write for many platforms from the course, such as blogs, websites, and social media.
A writer's abilities can be significantly improved by taking a content writing course. The course shows the writer how to write succinctly and clearly as well as how to organise their writing for reader accessibility. The course also teaches the writer how to conduct more effective research and how to identify and use reliable sources of data.
If you're a writer, you can improve your SEO (search engine optimization) skills by enrolling in a content writing school. The course will show you how to utilise keywords and other SEO strategies to raise your position in the search results and optimise your content for search engines.

Last but not least, enrolling in a content writing school can help writers build their internet presence. The course teaches the writer how to properly utilise social media to market their writing and provides advise on how to set up a blog or website..
We Also Provide PPC Course training, Analytics Courses, Ads Courses Advanced Digital Marketing Course In Chandigarh, SEO Courses, Logo Designing
5 Reasons to Study Content Writing at Townmedialabs
Are you looking for a creative and challenging way to make a living? If so, then a career in content writing might be right for you. Here are five reasons why you should study content writing at Townmedialabs:
1. Content writing is a rapidly growing field
The need for content writers is increasing quickly because content marketing has become a crucial way for companies to connect with and retain customers. As a result, businesses are willing to pay a premium for well-written and appealing content.
2. It's a great way to make a living
Making a living as a content writer can be a rewarding career choice. You get to use your creativity and storytelling skills to captivate and educate others. Additionally, with the growing importance of content marketing for businesses, there is a high demand for quality content and companies are willing to pay a premium for it.
3. You can work from anywhere
The flexibility to work from any location with internet access, such as at home, a coffee shop, or elsewhere, is offered in content writing as a career option, making it perfect for those who desire the convenience of being able to take their work with them wherever they go.
4. It's a great way to build your portfolio
The building of a portfolio and showcasing of writing skills can be accomplished through content writing. By producing quality content, the attention of potential clients and employers can be attracted.
5. You'll never be bored
The world of content writing is always evolving. You won't ever become bored because there will always be fresh obstacles and possibilities to keep you interested.
Why Chandigarh Is the Perfect Place to Study Content Writing
Content writing studies in Chandigarh can be pursued due to the presence of several quality educational institutes in the city offering courses in the field. Furthermore, opportunities for gaining practical experience are also provided through the presence of various content writing agencies and companies located in Chandigarh.
Some of the top reasons why Chandigarh is the perfect place to study content writing are listed below:
1. The city is home to some of the best educational institutes in the country.
2. Chandigarh has several content-writing agencies and companies.
3. The city offers a great quality of life.
4. Chandigarh is well-connected to other parts of the country.
Contact Details
Name – TownMediaLabs Academy
Address – TownMediaLabsAcademy, SCO – 112, Ground Floor, Sector 34-A, Chandigarh
Phone Number – +9872648209