Film Making in Course Chandigarh–Film making & Direction course in Chandigarh, Turn Your Dream of Becoming a Filmmaker into reality with our Advance Filmmaking  Certification Course in Chandigarh Our innovative film programs are designed for a new generation of storytellers.
With an unrivaled approach to hands-on, interactive learning, students find themselves completely immersed in their course of study from day one. Classes are taught by award-winning industry professionals, in a real-world environment with state-of-the-art facilities and equipment.
Hurry Up Join Chandigarh's And India's Best Film Making Course In TML No 1 Filmmaking Institute In Chandigarh to Book Your Seat Call Now At 9872648209
TownMediaLabs Academy workshops, each student writes, directs, shoots, and edits a series of short film projects of his or her own using high-def digital video, film lighting packages, and digital editing software. Classes in directing, writing, editing, cinematography, and production cover the creative and technical demands of telling a story with moving images. Learn Film Making, Acting, Film Direction, Camera and Scriptwriting Make a film with us at an outdoor location.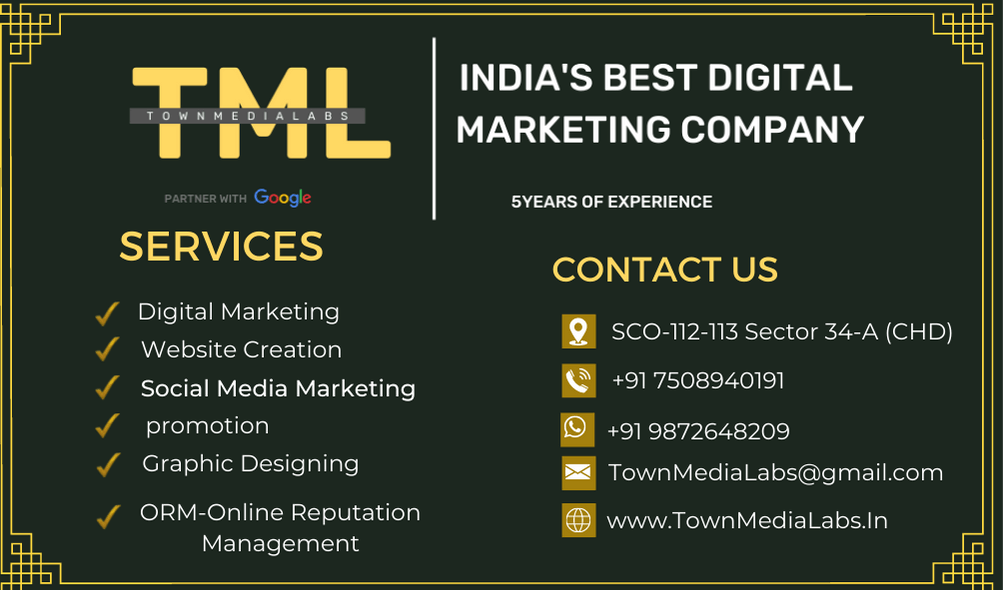 Film Making in Course Chandigarh
Details
Duration
1-2 months
Class Timings
9:00 to 6:30 pm (Full Day) (Customized Batches)
Batches
Email
Mobile Number
Course Fee
Monday – Friday
[email protected]
9872648209
INR 75000
Understanding Storytelling
Evolution of Moving Images
Understanding Cinema
Understanding Storytelling
Evolution of Moving Images
Understanding Cinema
Studio Production (Non-Fiction)
Cinematography II(Non-Fiction)
Directing Non-Fiction
Post Production II
Pre Production (Practical)
Pitching
Copyrights and Contracts: Film Distribution and Promotion
Career and Showreel Development
Pre Production (Practical)
Pitching
Copyrights and Contracts: Film Distribution and Promotion
Career and Showreel Development
FEE & COURSE DURATION:
The fee for the complete advanced Film Making Course in Chandigarh at Townmedialbs. is INR 25000. The Complete Duration of the Film Making And Direction Course In Chandigarh is 12 months.
| | |
| --- | --- |
| Course Name: | Film Making Course in Chandigarh |
| Duration: | 12 Months |
| Timings: | 9:00 am to 11:00 am, 11:30 am to 1:30 pm, 2:30 pm to 4:30 pm, 4:30 pm to 6:30 pm |
| Batch Days: | Monday – Saturday |
| Mobile No: | +91-98726-48209 |
| Course Fee: | INR 75,000/- |
Cinematography – Camera
Cinematography – Lighting
Sound Recording
Shooting of Film
Basics of Filmmaking
Film Internship
Film Studies
Underwater Filmmaking
Action Scenes Shooting
Drone Cinematography
1- Understanding Cinema, Direction & Screenwriting Course
Film Making Courses in Chandigarh
Origins of Cinema & Film Language
Direction – ​Grammar of Cinema
Role of the Director – Director is the author of the film
Vision and realization of vision through cinema
Film Screening and analysis & Production duties
Handling Actors, working with the DOP​
Post Production duties of a Director
Screenwriting: An Introduction
Story Idea/Concept; Character and Plot
Writing Exercise with Prompts
The Three Act Structure – beginnings, middles, and endings
Script formatting
Discussion of story ideas for the short film (assignment)
Development of script (Plot, Characters, Basic storyline)
Writing the first draft
2 – Video Editing & Compositing Course
Basics of Film making
Digital Design
Video Editing & Sound Editing
Layer Based Compositing
Art of Rotoscopy
Match Moving
Camera Tracking
Title Graphics
Audio-Video Synchronization
Node-Based Compositing
Stereoscopic Pipeline
3D Camera Projection
Live-Action Compositing
Editing FCP
Converting from HD to DV & Media Management
3-Software covered
Adobe Photoshop
Premiere
Audition
Final Cut Pro™
Film Making Courses in Chandigarh
4 – VFX and Motion Graphics courses
Superimposing & Compositing
Animating a Clip
Applying Video Effects
Liquids and Dynamic Simulation in VFX
Tracking and Match moving in VFX
Chroma Keying
Montage and Promo
Software covered
After Effects™
Fusion™
Nuke™
Film Making Courses in Chandigarh
5 – Sound & Music Design course
Physics of Sound; Measurement and Units
Sound and Cinema: a brief history
Importance and Use of Sound
Diegetic and Non-diegetic sound
Recording Devices and Media; Storage Media
Live monitoring; Documentary sound recording
On-set Duties; Post-production duties
ProTools or Logic Pro – Audio Engineering / Acoustics (DAW)
Practice Session: Live Recording a conversation​
Film Production Sound & Post Production
6 – Final Project & Portfolio Design
Digital short advt. films
Direction & Screenwriting
Cinematography & Post Production
Short animation movies incorporating sound effects, rendering, etc.
Remix the soundtrack by using all the special FX
YouTube Channel Creation
Freelancing & Earning
Placement Guidance
Filmmaking is fine art that revolves around the process of conceptualizing a story, scriptwriting, directing, shooting, sound recording, lighting, editing, production controlling, and screening. The film is a medium through which the director conveys his message to the masses. The filmmaker/ director is a painter who draws his ideas on the canvas of the film. It is, however, an easy way to communicate with the masses. On the other hand, films or movies serve the purpose of entertainment and are very popular as an art form. Over the years, the process of Filmmaking has experienced upheaval changes.
There are plenty of jobs for aspiring filmmakers with leading production houses in various capacities.
They can become freelancers and direct their documentaries and serials.
Some of the positions that are up for grabs include Production Coordinator Camera Trainee Editing Trainee Visual Effects Producer Cinematographer Storyboard Editor Assistant Director Junior Artiste
Large gains for OTT in 2023: With theatres likely to remain empty for longer, more producers may release films on OTT platforms
Expected  Learning Outcomes In Film Making Course in Chandigarh
Skills learned as a result of successful completion of this program may include:
The ability to work independently and collaboratively in a high-pressure creative environment.
An in-depth knowledge of digital video cameras and motion picture production.
A working knowledge of 16mm and 35mm cameras and film production.
The ability to write and pre-visualize a screenplay.
In-depth experience working as a director, producer, assistant director, director of photography, assistant cameraperson, gaffer, grip and sound mixer on student productions.
Mastery of Avid Media Composer digital editing software.
Knowledge of film history and film studies.
Knowledge of aesthetic film theory and experience with practical application of the same.
Put into practice the fundamentals of directing and visual storytelling.
Explore the foundations of High Definition video production and digital editing.
Experience full immersion in the craft of screenwriting
Serve as an actor, as well as a director, cinematographer, or assistant director on at least one production workshop overseen by instructors.
Acquire an introductory knowledge of the history of motion pictures.
Write direct and edit short projects including the end of semester digital dialogue film.
Crew as cinematographer, gaffer, and/or assistant camera on approximately 15 additional projects.
Write a complete short film screenplay with dialogue.
Collaborate with classmates and instructors in Production Workshop exercises filmed on HD.
Develop a professional comprehension of directing, screenwriting, producing, sync-sound production, digital and film cinematography, and digital editing study and exercises.
Continued use of collaborative strategies and techniques, while on-set, and in constructive classroom screen and critique sessions.
Explore the role of the producer and implement advanced production tasks.
Serve as director, cinematographer, or assistant director on at least one production workshop overseen by instructors and shot on HD or 16mm film.
Shoot exercises on 35mm film as part of Camera and Lighting II.
Begin pre-production and develop a story and visual design for the Final One Year Film.
Demonstrate a competency of pre- production, shooting, and editing a short narrative film.
Apply the fundamentals of sound design.
Explore the fundamental elements of visual effects and feature film story development.
Create professional quality producing and directing production books.
Direct and edit a film of up to 15 minutes (shot on 16mm film, 35mm film, or High Definition Video).
Participate as a principal crew-member on fellow students' films.
We Also Provide PPC Course Traning, Analytics Course, Ads Course Advanced Digital Marketing Course In Chandigarh, SEO Course, Logo Designing
Contact Details
Name – TownMediaLabs Academy
Address – TownMediaLabsAcademy, SCO – 112, Ground Floor, Sector 34-A, Chandigarh
Phone Number – +9872648209