The Metaverse is a digital world where people can interact and socialize with each other as they please. It is a virtual world that allows users to be whoever they want to be, and do whatever they want to do. It is a place where people can escape the reality of their lives and live out their fantasies.
Metaverse Course By Townmedialabs
The Metaverse course offered by Townmedialabs Chandigarh is a comprehensive and insightful program that provides individuals with a strong foundation in the basics of virtual reality development. The curriculum is designed to give students a working knowledge of the concepts, tools, and techniques used in the creation of 3D virtual environments. The course is intended for anyone interested in learning about virtual reality, regardless of previous experience or knowledge.
The first part of the course covers the basics of 3D graphics and animation, including modeling, texturing, lighting, and rendering. Students learn how to create and manipulate 3D objects, apply textures and lighting, and create realistic renders. The second part of the course focuses on the development of virtual reality applications. Students learn how to create 3D worlds and experiences, program virtual reality interactions, and integrate audio and video. The final part of the course covers the business aspects of virtual reality, including project planning, marketing, and distribution.
The Metaverse course is an excellent way to gain a comprehensive understanding of virtual reality development. The curriculum is well-designed and provides students with a wealth of information and hands-on experience. The course is taught by experienced professionals with a deep knowledge of the subject matter. The Townmedialabs Chandigarh is an excellent place to learn about virtual reality.
What Is MetaVerse And Why It Necessary To Learn Metaverse Course
Metaverse is the latest buzzword in the market -Facebook announced that it was renamed 'Meta' and transformed into a Metaverse company in 2025, and launched the 'Horizon Worlds' Metaverse social platform.
Not only Facebook but Nvidia, Microsoft, and Apple also announced their entry into Metaverse one after another.
What Students Will Get Learn In Metaverse Course in India?
What is the Metaverse?
How Gaming + Web 3.0 + Blockchain are Changing the Internet
How NFTs are Unlocking the Metaverse Potential
From Online to Offline
Industries Disrupted by the Metaverse: Fashion, Marketing, Brands, Finance, Gaming, Architecture, Virtual Shows/Concerts, Art Galleries and Museums
The Different Shapes of the Metaverse: Games, NFTs (assets), Blockchain Protocols, Cryptocurrencies, etc
Virtual Reality (VR) and Augmented Reality (AR), Mixed Reality (MR) and Extended Reality (XR)
Metaverse Interfaces: Personal Computer, Mobile Phone, AR Glasses, VR Goggles, Neuralink
Blockchain Protocols and Platforms Involved in the Metaverse
Metaverse-Related Tokens
Investing In the Metaverse and Profit
Metaverse Index – MVI
The Flagship Metaverse Projects
How to Find and Evaluate Metaverse Projects
Asset Classes Inside the Metaverse
Land, Coins, Characters/ Avatars, Skins, Utility, etc. + Individual Ownership
Metaverse Games
Decentraland, Sandbox, Star Atlas, Axie Infinity, Traverse
Metaverse Land Ownership – Property Investment
Metaverse and DeFi
Metaverse and GameFi
Play-To-Earn
The Metaverse Future
The Metaverse – Some Food for Thought
What is Metaverse? What is the technology behind the metaverse? How you can invest and be a part of this metaverse?
So i decided to create this course on the complete course on Metaverse where I will talk about the Blockchain, Virtual Reality (VR), Augmented Reality (AR), Play to earn games, and much more.
So if you are curious and wanted to be a part of the next revolution than Here are the list of topic that we will be coving in this course
1. Introduction to Metaverse
Introduction to Metaverse and immersive experience
History of Metaverse
Metaverse value chain with 7 layers
2. AR, VR and MR
Everything about VR (Virtual Reality)
Everything about AR (Augmented Reality)
Everything about MR (Mixed Reality)
Blockchain Identity Management in Metaverse
3. Tech Giants and Metaverse
Roblox and Metaverse
Roblox Business Model
Unity (game engine) and metaverse
Epic Games and Metaverse
Fortnite and Metaverse
Facebook(Meta) and Metaverse
Microsoft and Metaverse
Apple and Metaverse
Nvidia's Omniverse to connect 3D engines
4. NFT (non-fungible token)
Introduction to NFTs
History of NFTs
Benefits of NFTs
Twitter and NFT
Should you buy a NFT
How to Buy and Sell a NFT in Opensea
Who this course is for:
People wanted to learn about web 3.0 and blockchain
Blockchain and cryptocurrency enthusiasts
Game developer who wanted to learn about metaverse
Content creator looking for play to earn
Gamer who wanted to learn about play to earn
Moreover Metaverse Course In Chandigarh
The Metaverse Course in Chandigarh is an 8-weekend program that provides students with an introduction to the fundamental concepts of the virtual world, virtual reality, and augmented reality. The program is designed for people with no prior experience in the field and covers a range of topics from the basics of 3D graphics and animation to more advanced concepts such as virtual reality programming and game development.
The first half of the course focuses on introducing students to the basics of 3D graphics and animation. Students learn how to create and modify 3D objects, create basic animations, and apply textures and lighting to their scenes. They also learn how to use 3D software to create models for virtual worlds and games.
The second half of the course focuses on virtual reality and game development. Students learn how to create virtual reality applications using Unity, and how to develop games for various platforms using Unity. They also learn about the different aspects of game development, such as game design, programming, audio engineering, and marketing.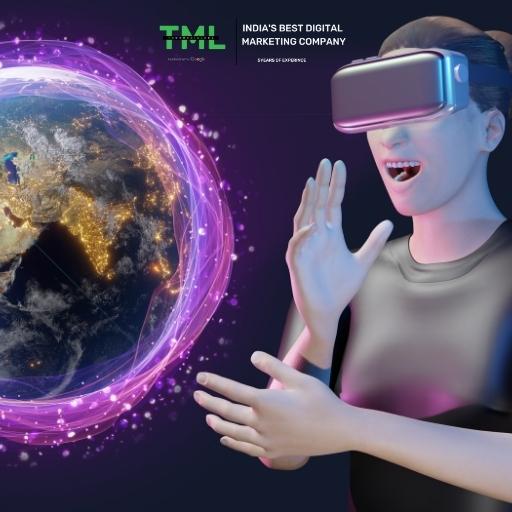 The Metaverse Course in Chandigarh is an excellent program for students who want to learn about the fundamentals of virtual worlds, virtual reality, and augmented reality. The program provides students with a comprehensive introduction to the field and covers a range of topics from basic 3D graphics and animation to more advanced concepts such as virtual reality programming and game development.
WHY SEEK AFTER A PROFESSION IN METAVERSE?
Students get entry to a creative toolbox to build anything in 3D, a visual coding language to program their innovative creations, and fun ways to explore what they've created, including Virtual and Augmented Reality!
Students learn and discover how to create in 3D through the construction of a virtual house or apartment.
Main Skills to be taught and practiced:
Practice spatial thinking
Learn 3D creation skills
Develop research skills
Develop digital literacy skills
Foster creativity & collaboration
What You Will Learn in Metaverse Course
Paradigm Shift
Start a Metaverse Project
Connect with Metaverse Pioneers
Learn Fungible & Non-Fungible Tokens, Learn Token & NFT Use cases. Launch your 3D Model, first Metaverse Game, and build a Voxel Building. Identify career opportunities in Metaverses.
Connect with the most enthusiastic, skilled developers in the Metaverse and Blockchain ecosystem, and gain access to resources and opportunities from ecosystem projects.
Why you can choose Townmedialabs for Metaverse Training in India
AIMS AND OBJECTIVES
Townmedialabs Offers the Best METAVERSE Course in India by industry specialists.
Weekends classes are given.
Trainers are experts with long periods of Industry experience.
Mentors of Uncodemy help each substitute in live venture preparation.
We likewise offer 100% Placement Assistance.
Internships in each field are offered.
Understudies can come whenever and can get access to the labs.
Our understudies get the opportunity to meet and give each device to find a new line of work.
Conversation Zones are additionally accessible.
24×7 web office.
Understudies will be beavering away at live ventures.
A recognized Course Completion Certificate with a project letter is given by Townmedialabs.
Understudies can repeat the class with zero charges.
It helps understudies with taking information on complicated specialized ideas.
FAQ'S
 Q.1 What is a Metaverse code?
In the metaverse, one unique set of codes has helped digital artists, content creators, musicians, and more secure their digital assets, and these sets of codes are called non-fungible tokens or NFT.
Q.2 What skills are required for Metaverse?
The  Skills You'll Need To Learn To Work in the Metaverse
•  Virtual Reality (VR)
•  Artificial Intelligence (AI) …
•  Extended or Mixed Reality (XR or MX) …
•  Non-Fungible Token (NFT) Technologies. …
•  Distributed Computing and Storage.
Q.3 What Job a person will have in Metaverse?
Working in the metaverse will require only digital workstations and digital whiteboards, and 3D avatars are free and able to meet "face to face" without the need for conferencing equipment.
Q.4 What is included in Metaverse Training?
New training programs and partnerships are designed to help people develop new skills, including, virtual reality, augmented reality, and immersive media.
Contact Information
Name: TownMediaLabs Academy-Best PPC Training Institute in Chandigarh
Address: SCO 112 basement Sector 34-A  Chandigarh
Phone Number: +91 9872648209
Advertisment Contact Townmedialabs
For Any Type Of advertisement Contact Us at [email protected]
Our Social Links are Fb, Instagram, our website, and our recent blog