SEO Course in Chandigarh – TownMediaLabs offers you industry-specific solutions Advance SEO Course in Chandigarh.  SEO is the most effective way to increase the rankings of the website organically.  However, there are various SEO Courses in Chandigarh that can offer you the best SEO Training, but if you are looking for the best one, then our SEO Course in Chandigarh is the top choice for you.
Hurry up Call Now at 9872648209 To Book Your Seat In No 1 Digita Marketing Institute (TML)
Companies nowadays strive to develop their internet business by driving visitors to their websites. As a result, they want to experience Digital Marketing or SEO specialists to assist them in increasing website traffic and finding potential clients for their organization.
Which is the Best SEO Training Institute In Chandigarh?
Townmedialabs is the Best SEO Traning Institute In Chandigarh They Have Over 10 Years Of Experience In The Feild Of Digital Marketing. TownmediaLabs Is Recommended By Google As The best Seo Traning Institute in Chandigarh.
Hurry up Call Now at 9872648209 To Book Your Seat In No 1 Digita Marketing Institute (TML)
SEO Course in Chandigarh. Learn the Secret of Top Ranking in Organic Search
If you are the one who wants to boost your website traffic and want to make your career in Digital Marketing or SEO Industry, then our SEO Training in Chandigarh can fit all your needs.
Our SEO Training Course in Chandigarh Batch Timings & Other Details
SEO Training Course in Chandigarh
Details
Duration
1-2 months
Class Timings
9:00 to 6:30 pm (Full Day) (Customized Batches)
Batches

Email

Mobile Number

Course Fee

Monday – Friday

9872648209

INR 15000

Get the Best SEO Course in Chandigarh
Join the Best SEO Course in Chandigarh and learn from industry experts. Our SEO Training Institute in Chandigarh offers an advanced SEO strategy that is used by search engines like Google, Bing, and Yahoo to improve the rankings of the website and increase traffic. There are a lot of benefits if you learn SEO from reputed institutes like us. We provide you –
100% Live Project Training
Job Placements in leading SEO Companies in the world will be provided
After SEO Training Support
Small Batches and proper attention are given to each student
Get 6 Months of Industrial SEO Training in Chandigarh –
TownMediaLabs being the leading SEO Institute in Chandigarh offers limited seats for project training. Although, the live project training module of our course can make a huge difference to your profile prospects. Thus, don't settle for the second-best. Choose Winners TownMediaLabs(Advance SEO Course in Chandigarh) brings you directly in touch with industry experts.
SEO Syllabus covered by our SEO Institute in Chandigarh –
Define the fundamentals of SEO
Define Google Algorithms and their types
Content writing and optimization
Title, Meta description, and Heading Optimization
URL structure
Sitemap generation
Google webmaster and Google Analytics training
Link Building
Social media promotion and guest blogging
Competitor analysis and reporting
Site Submission, Directory Submission, and social bookmarking
What you can do with the 6 months Industrial SEO Course in Chandigarh?
Study the advanced framework in detail as well as know the latest trends in technology.
Get a chance to learn from Google-certified tutors with industry experts.
Here, you will update your skill set to facilitate a smooth as well as efficient transition from legacy systems over to PHP technologies.
Get Help from Trained Developers with years of experience whenever you face a coding issue.
Quality Training as well as superb infrastructure.
Job opportunity in our company in case you perform exceptionally.
Why you should join TownMediaLabs for SEO Course in Chandigarh?
Our Entire Training program is based on a live project as well as current industry standards
Training will be conducted daily or every week. In addition, we can show the classes as per the student's preference.
Able to boost your career in a Digital Marketing industry
6 Month Industrial Training with project certificate
Job Interview Preparation
Who can join our SEO Training Institute in Chandigarh?
Students, Housewives, Entrepreneurs, working professionals, or others can join our SEO Training Institute in Chandigarh. There is no specification or degree required to understand Digital Marketing. Having basic internet knowledge and good communication skills can increase the chances of becoming an expert in the field.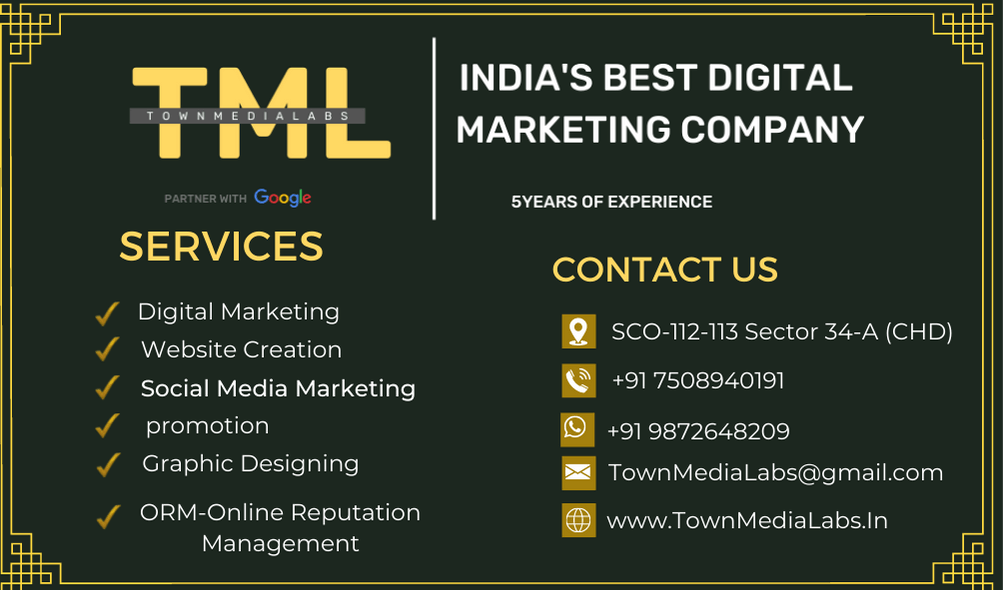 If you have a passion or dedication or want to make your career in the Digital Marketing industry or you are a business owner who wants to use SEO or Digital Marketing to promote your business online then our Digital Marketing Training Institute in Chandigarh is the one-stop destination for you.
Other Certification Courses-
SEO Traning Course in Chandigarh
As an Expert SEO Training Company in Chandigarh, TownMediaLabs understands this concept entirely and due to that, we have become one of the best SEO Training institutes in Chandigarh.
Why Choose Our SEO Course Institute in Chandigarh?
Students will be instructed by industry experts at our SEO training institute in Chandigarh, who will teach them the most recent Google upgrades. We provide 100% practical knowledge based on live projects to strengthen our students practically and technically, which is why we are regarded as the finest SEO training college in Chandigarh.
SEO Traning Course In Chandigarh

SEO Course In Chandigarh

SEO Course Fundamentals
Google Algorithm
Search Operators
Indexing, Caching
Search Commands
Tags that help in SEO Rankings
Keyword Research in SEO Training
Type of Keywords
Keyword Research Techniques
Google Insights/Trends
Choose Right Keywords
Long Tail Keywords
Competitor Analysis
Customer Reviews
User Experience
Technical Aspects
Customer Trust
Technical Optimization
SEO On-Page Optimization
H1, H2, Heading Tags
XML Sitemap
Html Sitemap
Robots file
Canonical Tag Optimization
Checking Keywords Ranking
404 Error Removal & Redirects
Footer Optimization
Header Optimization
Creating of Favicon
URL Renaming / Re-writing
SEO Off Page Optimization
Free Classified Submission
Google Map Creation
Address Verification
Question & Answering
Local Business Listing
Google Business Reviews
Guest Posting
Forum Postings
Web 2.0 Submission
SEO Tools and Extensions Uses
Google Webmaster Tool
Similar web
Website Mobile Friendly
Google Tag Manager (GTM)
Similar web

Keywords Research & Analysis
LSI Technique
Initial Site Analysis
Keywords Density
Keywords Placement
Keyword Stuffing
Page Mapping of Keywords
Title & Meta Tag Optimization
Anchor Text
Paragraph & Tag Optimization
No, Follow the Links
Dofollow Links
Internal Links
External Links
ALT Image Optimization
301 Permanent Redirection
302 Temporarily Redirection
Content Optimization
Search Engines Submission
Directory Submission
Social Bookmarking
Blog Commenting
Blog Posting
Article Submission
Ping Submission
Image Submission
PPT Submission
PDF Submission
Profile Creation
Business Profile Creation
Logo Submission
Infographic Submission
Video Submission
Google Analytics Tool
Semrush
Woorank
Screaming Frog
Mozbar
Ahref
Open Site Explorer
Plagiarism Checker
Disavow tool
Page Speed Insight
Type Of Seo
Type Of Techniques In Seo

On-Page SEO
Off-Page SEO
On-Page SEO

White Hat Seo
Black Hat Seo
Grey Hat Seo
White hat SEO Course In Chandigarh
In White hat SEO, we work as per search engine guidelines. search engine recommends white hat Seo. white hat Seo ensures the quality of webpages. it ensures that the particular content is written for users not for search engines. it ensures the quality content of web pages. white hat Seo takes time to give results because it needs strategy and plans.
Black Hat SEO Course In Chandigarh
Black hat Seo is just the inverse of white hat Seo. in black hat Seo, we do not follow search engine guidelines.in black hat, the Seo user redirects to a different page from the page that was indexed by the search engine. increase the placement of keywords within a page to raise the keyword count, variety, and density of the page. This is called keyword stuffing. a search engine does not endorse black hat Seo, it may give you quick results but you can not on SERP for a longer period.
Grey Hat SEO Course In Chandigarh
Grey hat Seo is a combination of white hat Seo and black hat Seo, in a grey hat, we do not follow exactly white hat or black hat we follow both together, which means we don't cross the limit line of black hat Seo. our students will learn the best SEO course in Chandigarh.
Who Is SEO Expert in Chandigarh?
If you want to learn SEO in Chandigarh (digital marketing) from the best, contact Raman Makkar and set up an online session. Raman can be reached at 9872648209. SEO in Chandigarh may help you build and rank your business in Chandigarh and throughout India.

FAQS – SEO Course in Chandigarh – TownMediaLabs
What are the benefits of doing an SEO Course in Chandigarh from TownMediaLabs?
TownMediaLabs is known for its coaching. Our SEO Institute in Chandigarh trains you with hands-on experience which includes live project training as well as 100% job placement along with lifetime support.
Does TownMediaLabs provide 100% job placement in SEO?
Yes, TownMediaLabs provides 100% guaranteed placement services for students.
Can I get a certification?
You will get Google Analytics and TownMediaLabs certificates after the completion of the course.
If I quit your SEO Course in Chandigarh, then do I get my fees returned?
Yes, you will get a fee refund.
Can I pay fees in installments?
Of course, you can pay your fees in 2-3 easy installments.
How TownMediaLabs SEO Training Institute in Chandigarh is different from others?
As a premium SEO Training Institute in Chandigarh, TownMediaLabs takes pride in being honest with everyone.
We Also Provide PPC Course training, Analytics CourseAnd Advanced Digital Marketing Course In Chandigarh 
Contact Details